Should Students Make A Brand Of Themselves?
Perhaps more than ever, students are facing the hardest progression from education to the workplace. With record numbers of school leavers, college leavers and new graduates armed with a record number of top grades it's becoming increasingly difficult to stand out from their peers. Couple that with the shrinking public sector, the ongoing financial depression and the highest unemployment figures since 1994 and you have a young, educated population struggling to live up to their potential. If you are one of these fresh, energetic hopefuls then fashioning yourself into a 'brand' may give you that extra edge, that added prominence, a prospective employer will latch onto.
Setting oneself up as a brand isn't difficult; the social media tools are all out there ready and waiting for you to utilize in the name of, well, your name. In the 'people market' which is Facebook, LinkedIn and Twitter lies the potential for you to start your personal brand – Brand You. To further your brand you need to show your experience; an oft-quoted bugbear of new graduates, to demonstrate your worth to an employer. How do you get experience when no-one will give you a job unless you have experience? Let's deal with this one step at a time.
Starting Your Brand
First impressions last. Period. As a human animal we evolved quickly to be able to assess the dangers and benefits of an encounter with a stranger. This has stayed with us to this day and it's vital to ensure that Brand You portrays a professional, knowledgeable and experienced 'shop front' to the world. It takes seconds to leave a bad first impression and an age to reverse it. Facebook and Twitter keep hitting the headlines for the wrong reasons for gaffes, libel and inappropriate comments that leave the writer on the receiving end of a lawsuit or public humiliation. Hardly ideal and these social media sites do engender worry for many people. A poll carried out this month by The Telegraph shows a sense of unease about the content that people post online about themselves.
Source
Turn it around however and focus your attention not on Facebook but on LinkedIn and Twitter and you can build up a useful network of business people and the movers and shakers in your chosen field. Use the profile section of LinkedIn to establish a positive, achievement rich, face to the world. It's important to make sure you leave no gaps in your employment or educational history – in this way your profile is very much your online CV. Preparation is key – the old adage about 'failing to prepare is preparing to fail' is particularly true on your profile, your 'first impression' to a company. Putting some thought into your social media presence will ensure you are not punished by selling yourself short or making yourself your own professional saboteur.
Ways to Enhance Your Brand
Two other social media outlets that are arguably essential to Brand You are establishing a channel on YouTube and a blog. Remember to link all your profiles together and to maintain a coherent and united front. Many graduates and school leavers have little, if any, work experience aside from part-timing for minimum wage companies outside the academic timetable. If your chosen career is in film or television directing, one option would be to produce your own short films and host them on YouTube. Better yet, would be to create a video that goes viral. If your interest is in the third sector then try and do some voluntary work and promote your activities on your blog. Is the music industry for you? Performing your own work and distributing on YouTube has worked for others who have struggled to get recognition through the 'usual' channels.
It's never too soon to start your brand and some would say it's important to begin as early as possible. Imagine leaving your college with a network of influential people behind you. Today, it's likely to work more in your favour than obtaining as higher grade as possible.
It's Not What You Know, It's Who You Know
We live in the real world and we all know of people who have been awarded positions with companies despite them not being the best person for the job. This may not be fair but that's how it's always worked. This is why Brand You and all the networking and self promotion it entails is so crucial to realising success and maximising your potential. In the job application process there are many tips at your disposal to increase your chances. From simple things like visiting the premises or arranging to have a chat with the employer are all good things to make yourself known prior to an interview. Brand You gets you there even earlier. Chances are that if you are networking and making the most of your social media skills the employer will already be in your network.
Brand You Isn't Static
Your profile, network and social media footprint continue to grow with you throughout your academic and employment life. It's more than just a simple CV, it's interactive and puts you centre of your world. Why not put some of the following into practice:
1. Produce audio or video podcasts and host them on your blog.
2. Develop an email newsletter
3. Engage in online initiatives to increase your visibility
4. Advertise yourself conducting free webinars
5. Host Q&A sessions regarding your chosen field
6. Sign up to respected and appropriate forums to get yourself noticed
7. Comment insightfully on influential blogs
8. Produce guest articles or do some guest contributor work on websites.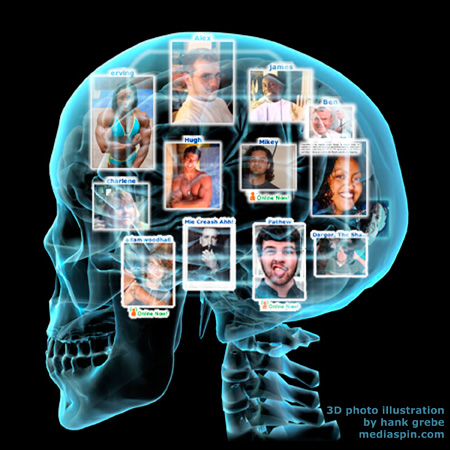 And finally…
Trevor Krill, a branding expert, summarised the salient points well in September 2011 when addressing university students: 'You need to set yourself apart. Many students just go out and try to get a job. If you create a brand, if you become The Brand, you are selling The Brand which is You.'
In this ever changing-world, a market saturated with high performing school leavers and graduates clamouring over fewer jobs, students really need to develop Brand You to differentiate themselves from their peers and to bring personality to their achievements.